Are you often devastated when you break the model that has taken you so long to print just because of removing the support too hard?

Are you often annoyed when you struggle to perfect your 3D Garage Kits?

Are you often distressed when your model which has taken you so long are prone to brittle?
Don't be worried, my friends!
SUNLU speaks for you! We delivers you from being a 3D printing easy meat.
Here are two SUNLU's Latest Resins:
--- High Toughness Photosensitive Resin and High Temperature Resistant Photosensitive Resin.
The First Unparalleled Skill --- Super High Toughness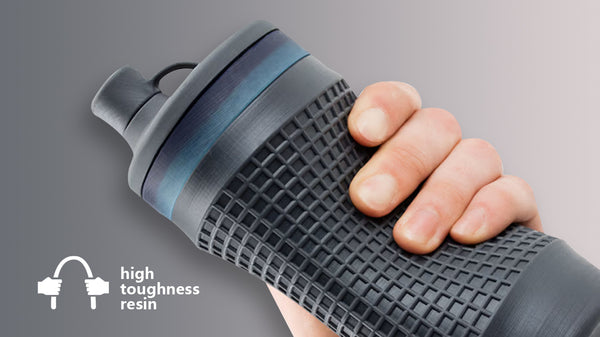 SUNLU High Toughness Photosensitive Resin
An

ultra-high toughness

,
high-accuracy

3D printing resin.
This product has
an elongation at break of 50%

. Not easy to break and crack. It is a super high toughness resin that attracts focus of attention this year.
High toughness photosensitive resin is the first ultra-high toughness resin from SUNLU.
On the basis of the original photosensitive resin, upgrade the formula, which drastically improve its toughness.
Research and testing show SUNLU's high toughness photosensitive resin is tougher and more impact-resistant than those on the market. It makes available
printing delicate models while maintaining high toughness

.
This product is of great compatibility.

Most printers

on the market can use it to print and it can be applied to product
housings, automotive mechanics and Garage Kits

which require high toughness.

 
The Second Unparalleled Skill --- High Temperature Resistance at

180℃

SUNLU High Temperature Resistant Photosensitive Resin
As the name implies, has a temperature tolerance of
up to 180℃

. And that realizes excellent mechanical performance and high temperature resistance.
This is the first resin, in the 3D printing industry, to be of ultra-high temperature resistance.
Baking at 180℃ for 15mins, at 150℃ for 1 hour and at 80℃ for 7 days

. The Garage Kits printed with High temperature resistant photosensitive resin can

be baked at 100°C

, enhancing its texture and creating value. It is of high hardness, high strength, high rigidity and high compatibility.

Whether in industry or in other fields, we believe SUNLU's new photosensitive resin will give you brand new experience in 3D printing with its high accuracy and excellent performance. Let's wait and see.
SUNLU 3D printing materials give users more choices. (The above products will be launched soon.)
Edited on 20230224