Our lives are further more convenient with the great progress in 3D printing, but we often ignore the costs in 3D printing.
If we take wrong materials or if the 3D printer is not operated properly, it will aggravate your burden on costs of 3D printing to some extent.
So what are the ways in which we can save money in 3D printing?
In fact, there are many ways, such as choosing cost-effective 3D printing materials, or setting the correct printing parameters before printing, as well as turning off the 3D printer in time after printing to avoid consuming unnecessary power.
But do you know how much power usage is actually consumed in 3D printing? Usually it takes us several hours to print some small models, and for larger models it can even take a few days.
So, what about the power usage of the 3D printer during the process?
Some small tests have been carried out on this, and the results are very surprising.
There're 3 different materials: ABS, PLA and PLA Meta from SUNLU, were used to print the same model.
The heat bed temperature and printing temperature of ABS, PLA and PLA Meta are 100°C//260°C, 60°C//220°C, and 45℃//170℃ respectively.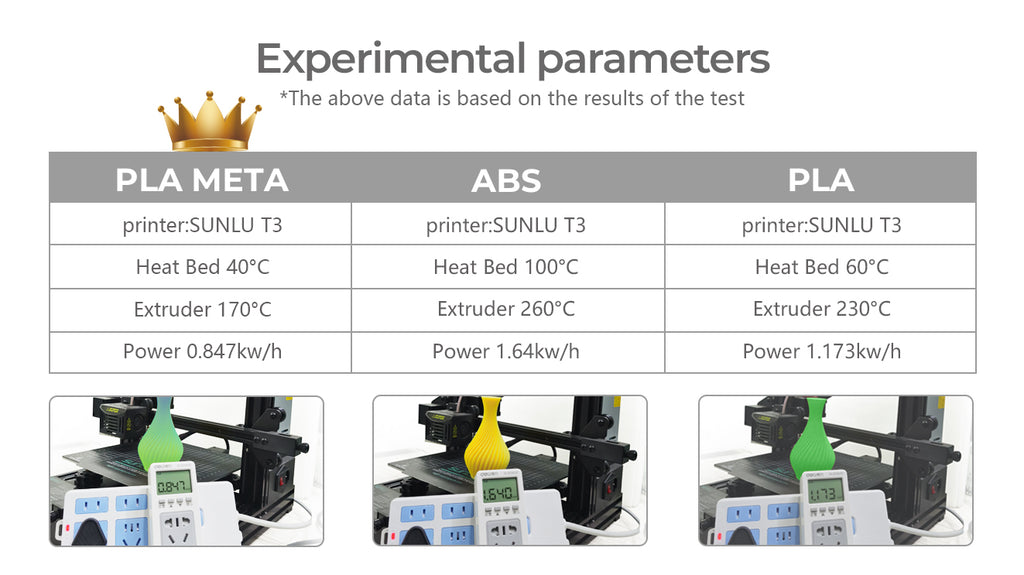 The results showed that ABS consumed the most power to print, followed by PLA, and PLA Meta used the least. The perfection of the PLA Meta-model is comparable with the 2 previous materials, but its power usage is much less than PLA and ABS.
The testing results show that different printing materials can give the same model results, but PLA Meta is much better in terms of power saving.
If we use low temperature printing materials such as SUNLU PLA Meta, we can not only get perfect models but also save your power bill.
More importantly, PLA Meta is a biodegradable and environmentally friendly material.
So why don't you use PLA Meta as your 3D printing material right now!
Edited on 20230224