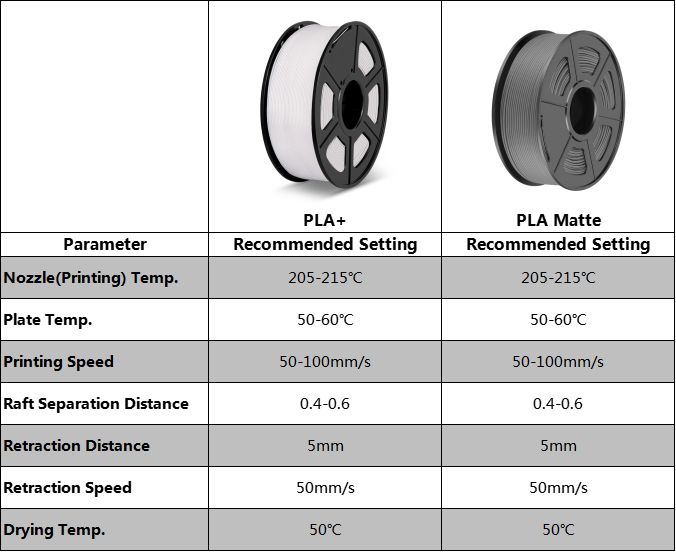 【Fantastic & Smooth Matte Finish】The SUNLU PLA matte filament finish is great and really helps to hide layer lines,bringing out other details of the print Prints smooth and has a beautiful matte finish.SUNLU nice PLA matte filament is achieved without compromising bed and layer adhesion, which results in beautiful and fairly strong PLA filament parts.Almost metallic finish and soft smooth finish.
【Neatly Wound Filament & No Odour】SUNLU has a professional production line with strict control of neatly lined up lines to avoid knots during printing.Completely mechanical wire winding and strict manual checks to ensure neat lines with few kinks, avoiding possible breaks.SUNLU PLA Matte filament is a biological material, purified from corn grain, eco-friendly, odourless and harmless to humans.
【High Precision +/- 0.02mm Tolerance PLA Matte filament】1.75mm PLA Matte 3D filament(Tolerance Level : ± 0.02mm).1KG 3d printer filament reel,perfect roundness and very tight diameter tolerance,approximately 330m of PLA Matte filament on each spool ease of use,minimal warping,no clogging,no bubbles.Increase your 3d printing objects delicacy.
【High fluidity,Less Stringing,Strong Layer Adhesion】Better flow of SUNLU no plugging premium 1.75mm PLA Matte filament.It has consistent diameter & roundness,less stringing and warping,strong layer adhesion.Article-free and impurity-free.No impurities,no clogged.Recommended PLA Matte Filament Extrusion/Nozzle Temperature 205-215℃.
【High Compatiblity & Vacuum Pack PLA Matte Filament】Compatible with 99% FDM 3D printers (with heated beds) and 3D pen.Vacuum packed neatly arranged SUNLU PLA Matte filament, provide better printing result.Environmental protection,1KG PLA Matte filament is made from starch raw materials derived from renewable plant resources.