SAVE THE PLANET AND DO IT TOGETHER WITH SUNLU



Recycled Filament From Wasted Produced Materials--Colors Vary

READ BEFORE YOUR BUYING:
A: What is SUNLU Recycled Filament?
We just sell it to recover the scrap material. We're basically making filament out of our own Industrial scrap to keep it out of the landfills and to provide a very usable material, especially for prototyping. We don't make any money on it, we are just moving it out.

It is an important part of SUNLU's plan to contribute to the world's environmental protection.

Generally speaking, the waste raw materials and semi-finished products are recycled by the injection molding factories in the market and made into plastic tools and toys, such as plastic stools, plastic buckets, storage boxes, etc.

As for SUNLU,we takes these wasted raw materials and semi-finished products, re-collects them, shapes them twice, and re-processes them into the new Recycled Filament.

And we offer a really decent price for those who love 3D printing and willing to do their part to care for our earth.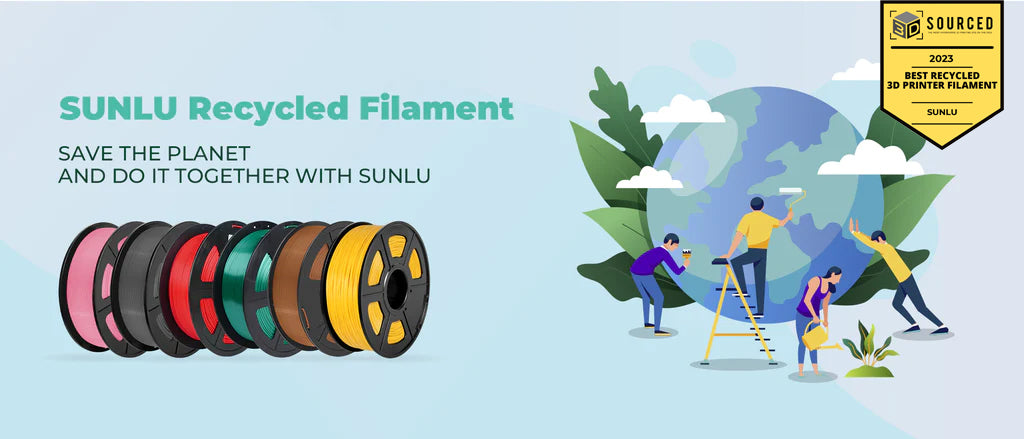 B: What is The Difference Between Recycled Filament and Normal Filament?
There is no difference except that the color of Recycled Filament is un-controllable, and after secondary processing and production, it can be used normally and meet the same print quality standards as normal filament.

This means that you purchase Recycled Filament in the same material, but the color may be different each time. It is great for doing prototyping and making small print.
Because the price really much more lower than normal filaments, and the quantity is limited, so, we have decided to no longer offer a warranty on recycled Products.

This is the same material as our regular PLA Product Lines. We've taken our PLA scraps and out of spec material (spools that were rejected during production due to over or under diameter readings), transition material and cut off waste and cut it into pellets that we can use to make filament!
It works great, prints great, and is otherwise almost equal to our normal PLA lineup. We follow the same quality guidelines with a minimum target of ±0.02mm.
Color:

Color will vary on this product.
C

olor selection is unavailable.

There are none that are equal to our standard colors.

Packaging: All items comes vacuum-sealed with desiccant in SUNLU brand box
Size: To keep this product simple, we only offer it only in 1.75mm 1kg spool
Warranty: Since this is reprocessed product, made from out of spec material, we cannot guarantee this product for replacement. However, we will assist you if it has severe issues that should not have left our plant anyway.
Compatibility: They should work in any printer that uses 1.75mm filament.