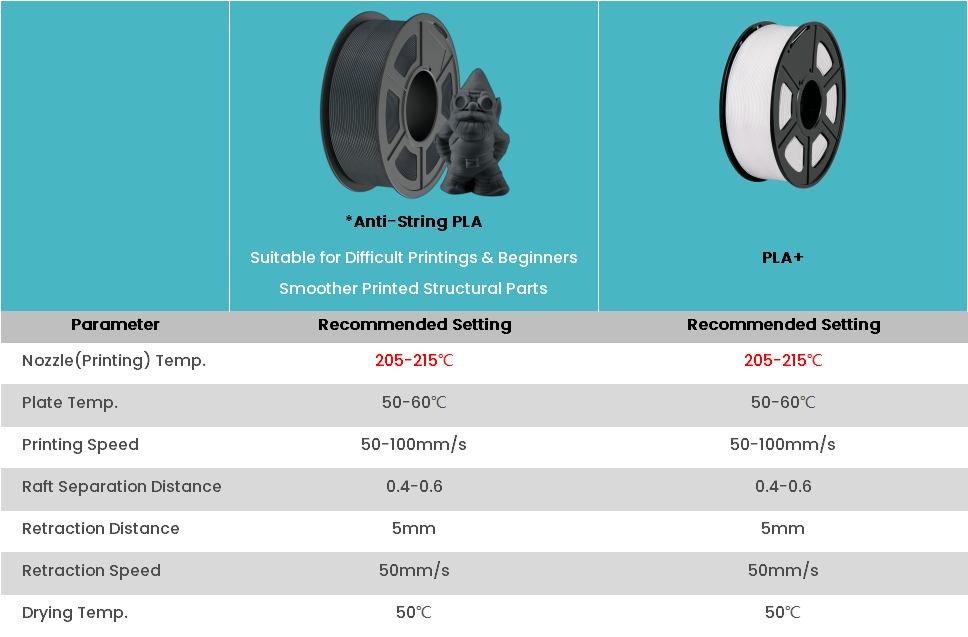 【SUNLU AntiString PLA Filament】AntiString PLA filament is an upgraded version of the regular PLA filament, AntiString PLA is engineered to minimize stringing and produce cleaner prints. Say goodbye to stringing issues! Get the String-Free 3D Printing!
【Clog-Free and Bubble-Free】Engineered and manufactured with a clog-free design, excellent layer adhesion, and optimal fluidity to ensure consistent and stable extrusion. Filaments are completely dried for 24 hours before packaging and vacuum-sealed to protect against moisture, guaranteeing an absence of clogging and bubbling issues.
【AntiString PLA Filament 1.75 mm】SUNLU 3D printer filament dimensional accuracy +/- 0.02mm. SUNLU filament has wide compatibility due to the small diameter error, making it suitable for almost all 1.75mm FDM 3D printers and easy to use.
【Neatly Wound 3D Filament Spool】SUNLU's self-developed neat winding device ensures that the filament is easy to use, with a 100% neat rate that reduces the risk of tangles and jams, it provides a smoother and more efficient 3D printing experience.
【AntiString PLA Recommend Settings】To achieve the best printing results with SUNLU AntiString PLA 3D printer filament, we recommend printing the AntiString PLA filament at a nozzle temperature of 205-215°C (401-419℉), a bed temperature of 50-60°C (122-140℉), and a printing speed of 50-100mm/s.
【SUNLU Main 3D Products】SUNLU offers a wide range of high-quality 3D printing products, including 3D printer filament, filament dryer, FDM 3D printer, 3D pen, 3D pen filament, 3D printer resin, LCD 3D printer, resin curing box, and other accessories, providing you with everything you need for a successful 3D printing experience.