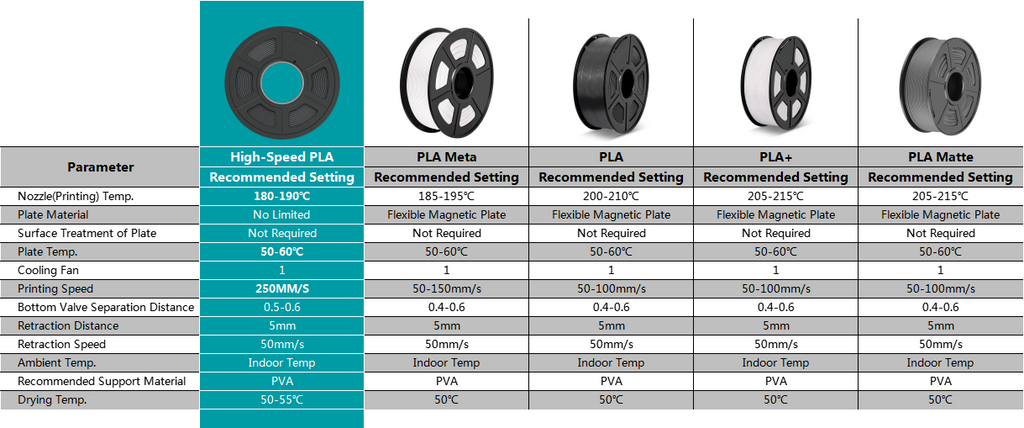 Let's start with the conclusion, SUNLU

High-Speed PLA

features:
· Fluidity:

500% --- Up ↑↑↑


· Heat Dissipation:

180% --- Up ↑↑

↑




· Crystallization Temp:

10°C --- Up ↑

↑

↑
Descriptions
0~100mm/s normal speed print quality is better than PLA, the surface is smoother, the overhang performance is better, the overhang angle is less than 70 ° can not be added support, greatly saving printing time and material waste.

Fluidity enhancement of 500%, 250mm / s above the speed of printing without plugging, no lack of material.

Heat dissipation performance increased by 180%, faster cooling under the same conditions, fast printing without piling up materials.

High crystallization temperature, fast curing speed. Rapid printing drape performance is better, (printer air cooling performance is excellent under the premise of draping angle less than 70 ° can not add support).

180~195 ℃ low temperature fast printing, save time, more energy saving.

Low shrinkage toughness, fast printing is not easy to crack, smooth surface.

Neatly lined up, uniform wire diameter, fast printing without knotting, even and smooth discharge.
Why do we need a filament specifically for
high speed fast printing?
With technological advances, as well as the printer's ability to leapfrog, the traditional regular PLA filament is not adapted so well to printer with high speed printing, and increasing the user's use of filament learning and debugging costs.
Common issues of regular PLA filament are:
· Don't melt fast enough (low melt finger, poor fluidity)
· Unstable extrusion
· Poor heat dissipation
· Low crystallization temperature, long curing time